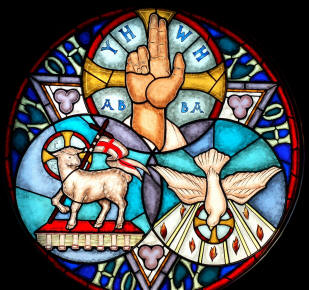 THE MOST HOLY TRINITY
CELEBRANT: In the love of the Spirit, who makes us one with our God and each other, and in the name above all others, the name of Jesus, who is Christ and Lord, let us pray for our and our God's so wounded world.
READER: Please respond, "LORD, HEAR OUR PRAYER!"
1. That the Christian churches may come to an ever-greater unity, reflecting the unity of the Father, Son, and Spirit, we pray...
2. That the leaders of the nations, East and West, may firmly resolve to labor mightily for a Sabbath of healing and a season of peace for every people and land devastated by war, especially, in these days, for the people of Ukraine and Sudan, we pray...
3. That we citizens of this great land, with hearts transformed, may bless our nation with a renewed dedication to equal justice for all, to a unity that respects our different racial, cultural, and ethnic backgrounds, and to ending gun violence, we pray...
4. That those ordained to the diaconate and the priesthood in these spring days may serve God's people in holiness, and with zeal and compassionate love all their days, and our Church be gifted with many vocations to the priesthood and the religious life for the sake of the believing community, we pray...
5. That all our community's 2023 graduates may use the gift of knowledge acquired through their education in praise of God and in service of family and friend, of neighbor near and far, we pray...
6. That we may grow in our commitment to making our community reflect ever more the beauty of our God's inner life of ever-flowing love, we pray...
7. That the seriously ill in our community and among our family members and friends may be gifted with love's comfort and the healing touch of our God, (especially _____________,) we pray...
8. That the hearts of the sorrowing may be wrapped in Easter's glorious promise
of unending life; and, _____________, (and) all our beloved dead come to rest in the bosom of the Holy Trinity, where life is forever and love never dies, we pray...
CELEBRANT: Merciful and gracious God, listen to the prayers of your people. Grant in abundance your Spirit so that we may be a people, united as one in love, whose lives reveal commitment to discipleship in word and work. We ask this through Christ our Lord.